4 Things You Should Know About Music Publishers
September 27, 2015
Editor's Note: The Copyright Coach is excited to feature a series of guest blog articles about music publishing and songwriting by Steve Rice, a 30-year veteran in the Christian music arena. You can download Steve's free eBooklet  "5 Roadblocks To Commercial Songwriting Success (And How You Can Avoid Them)"  to learn more about commercial songwriting. 
BY STEVE RICE: Whether you are looking for your very first music publishing deal or you have already been working as a professional and are seeking a new publisher, there are a number of things you should know about your music publisher. Here are four keys to understanding your publisher.
1) Understand Expectations: The songwriter contract is a business deal. Companies and people alike enter into business deals to make money. That's what business is. Revenue is the expectation of both parties and the publisher can only make a deal with you if he believes you will help his business grow. Yes, he may love your songs and may even be a close friend. However, if he is getting into business with you it's because he has assessed the situation, made some projections, and believes you will be a good income generator for him. Enter your deal with the understanding that the publisher has needs and motives, just as you do.
2) Be reasonable: The royalty splits of a publishing deal are fairly standard and have been for decades. More and more however, young writers are asking the publisher for more than the standard share. Unless you're a proven superstar, don't go in asking for the moon. Be humble, not arrogant. Look for a win-win type of deal. The standard music publishing deal pays half of any royalties earned to the songwriter and half to the publisher. However, ninety-nine percent of the songwriters that I talk to about a publishing deal ask for, and expect to get, a "co-publishing deal". What they mean is, they want 75% of the income and not the typical 50%. Sure, we all want a deal… a discount… a coupon.
However, speaking from the publisher's perspective, this can come across as a right hook. Asking for a co-publishing deal is not just asking for more money, it's saying you don't believe the publisher is worth the standard rate. Unless you're a publisher yourself, and plan to do half of the publisher's work, why would the publisher make you a joint-publisher with him? If you're writing the songs and he's doing all the management and marketing of those songs, then you are the writer and he is the music publisher. If you simply want the publisher to do all the work but only for half the usual compensation, that's not a fair deal. Be careful. You don't want to come across as arrogant and you also want your publisher to have enough incentive to work hard for you.
3) Know what a music publisher really does for you. Even many professional writers who have been in the business for years don't completely understand what a music publisher does. They believe that the publisher pitches their songs to land cuts and then moves on to another song. But a good publisher does much more than land a first cut for a song. In fact, good music publishers do the hard work after a song has been recorded and released. There is song development, song administration, licensing, international sub-publishing, royalty collection and much more. Song development is a music publisher's term for taking songs from cuts to hits, or from hits to classics. It takes more than one recording of a song to do that. It takes getting the song into multiple mediums (print, film, TV, compilations, etc.) and across multiple genres. It takes creative brainstorming and hard work. Songs don't automatically show up in all those places. The publisher works to help you and your songs make money.
Want more content like this? Signup for the CCS Newsletter
4) Choose your publisher based on skill and relationship. Some songwriters believe the bigger the royalty advance they get, the better the deal. In fact, many songwriters who have offers from multiple publishers will simply take the deal with the largest advance. But receiving an advance is simply receiving your royalties early. It's a loan. It says nothing about what the publisher is going to do to develop your songs and your career during your working relationship. Choose the best publisher, not the one that offers you the most up-front money. That up-front money could be the only money you ever see, if you pick a lousy publisher. On the other hand, if you choose the right publisher, you could see royalties from those songs for many years to come. A publisher that works smart, and works hard, can keep you earning money for decades.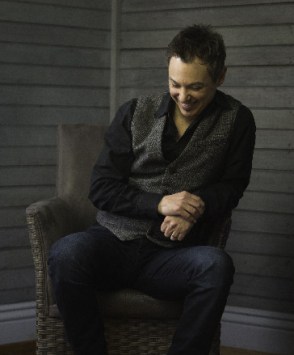 Steve Rice launched The Songsphere blog in 2012. In 2015, he added iWrite 2016: The International Christian Songwriting Conference and Nashville Music Architects. Since the mid-1980's, Steve has worked as a music publisher in the area of Christian Music and had the opportunity to work with some of the finest songwriters, producers and artists throughout the world. That includes writers like, Chris Tomlin, TobyMac, Steven Curtis Chapman, Matt Redman, Nicole Nordeman, Israel Houghton, Hillsong United, Paul Baloche, Newsboys, Switchfoot, Charlie Peacock, Smokie Norful, Seth Mosley, Lauren Daigle and hundreds more.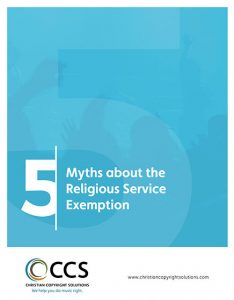 5 Myths about the Religious Service Exemption
Interested in learning more about copyright law and how it affects your church? Enter your information here to download the 5 Myths about the Religious Service Exemption. It adds clarity to some of the top areas of misinformation regarding copyrights.
Download Now!
About Christian Copyright Solutions: CCS's quest is to help churches and Christian ministries "do music right."  CCS is an expert on church music copyrights and our primary focus is providing licensing and clear educational resources to churches, as well as representation, administration and advocacy for copyright owners. Follow us on Twitter, Facebook and Pinterest.   The information contained herein is for informational purposes only, and is not legal advice or a substitute for legal counsel.  
---
Categorized in: Business, Indies, Music Publishing