Four Valuable Reasons to Try Co-Writing Your Songs
October 5, 2015
Editor's Note: The Copyright Coach is excited to feature a series of guest blog articles about music publishing and songwriting by Steve Rice, a 30-year veteran in the Christian music arena. You can download Steve's free eBooklet  "5 Roadblocks To Commercial Songwriting Success (And How You Can Avoid Them)"  to learn more about commercial songwriting. 
BY STEVE RICE: One of the biggest surprises for many songwriters who move to Nashville, is how much co-writing goes on in the professional circles.  Venturing an educated guess, I would say that 80% or more of today's hit songs, across most popular genres, are co-written.  That's a surprising number to most people, and the percentage could actually be higher.
A colleague of mine has often mused about the fact that songwriting might be the only art form where a work of art can be created through collaboration.   He gives the example that you don't see fine artists "co-painting" or "co-sculpturing".   He may be right that songwriting is different than painting in that way.  However when it comes to music, collaboration is not a new thing.  For decades (if not hundreds of years), society has created music through partnership.  And we have seen the same with the writing of literature and plays.  We certainly see collaboration in artistic performance everyday, with musicians "co-performing" as an orchestra, band or choir, and actors "co-acting" on the stage or screen.
Most of the professional songwriters that I know have a co-writing session on their calendar almost every day of the week.  Why are so many songs co-written today, and why should you work with writing partners too?
Here are a four reasons you may consider co-writing your songs:
LEARN SOMETHING NEW –  Writing with others helps expand your possibilities – whether it's new genres, new structures, new techniques, or something else, you'll almost always sharpen your songwriting skills from writing with a partner.   Songwriters improve in their craft much quicker when they collaborate often.

BREAK BAD HABITS –  When writing solo, we tend to fall into ruts that limit us in our growth as a songwriter.  Sometimes our songs even begin to sound the same.  Through collaboration we more readily realize our weaknesses and the imaginary limits that we've put on ourselves.

TWO HEADS ARE BETTER THAN ONE –  With two or more working together on a song, it's easier to get through the tough spots or the hurdles.  If you're writing alone and you just can't find the right word, or don't know what to do for a bridge, you're stuck.  With a team of writers contributing to the song, those issues are much easier to navigate.  Plus… we all want to write songs that others will enjoy.  If you bounce ideas off of one another, and you both like the outcome, there is a better chance that other listeners will like it too.

GET AROUND YOUR WEAKNESS –   Know what your strengths are and find someone that is strong where you are weak.  For example, one of you may be strong with melody; the other with lyric.  Or one may be more of an idea person and the other  a "finisher".  There have been many famous songwriting teams over the years.  Often when two writers find that their skills successfully compliment one another, they will become a career team.
There is another reason that professional writers collaborate today: 
GUARANTEED CUTS –  Professionals know that it is more difficult to land cuts today than in years past.  Since albums sales are down, artists and producers are finding new ways to build back up their income.  One of these ways is by writing more of the songs on their albums and using fewer songs written by other songwriters.  However, many of these artists need help from more talented writers to get hit singles.  So smart songwriters work hard to develop co-writing relationships with artists and producers to help ensure they can land song(s) on recording projects.
When publishers sign new staff writers, one of the first things they will do is begin setting up co-writing appointments for the writer.  Publishers know from experience that this is one of the fastest ways to help the songwriter stretch his/her muscles and grow in their craft.  It's also one of the best ways to network the writer in the music community, which leads to cuts.
It's normal to be apprehensive about collaboration, especially when it's with someone you don't know very well.  But co-writing has become part of the fabric of today's music business.  If you've never tried writing a song with someone else, let me encourage you to step out and try it.  Maybe the first time will be more of a "get to know you" coffee session.  You don't have to write something the first time you get together.   Do try writing with three or four different partners and see which ones are the best fit.  And don't throw in the towel immediately.  It might take a while to get the hang of it, but I believe you'll love it in the long run!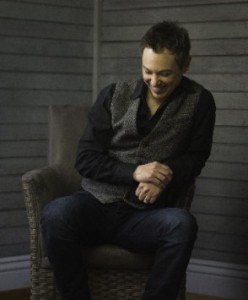 Steve Rice launched The Songsphere blog in 2012.  In 2015, he added iWrite 2016: The International Christian Songwriting Conference and Nashville Music Architects. Since the mid-1980's, Steve has worked as a music publisher in the area of Christian Music and had the opportunity to work with some of the finest songwriters, producers and artists throughout the world.  That includes writers like, Chris Tomlin, TobyMac, Steven Curtis Chapman, Matt Redman, Nicole Nordeman, Israel Houghton, Hillsong United, Paul Baloche, Newsboys, Switchfoot, Charlie Peacock, Smokie Norful, Seth Mosley, Lauren Daigle and hundreds more.
About Christian Copyright Solutions: CCS's quest is to help churches and Christian ministries "do music right."  CCS is an expert on church music copyrights and our primary focus is providing licensing and clear educational resources to churches, as well as representation, administration and advocacy for copyright owners. Follow us on Twitter, Facebook and Pinterest.   The information contained herein is for informational purposes only, and is not legal advice or a substitute for legal counsel.  
---
Tags:
co-writing
,
music publishing
,
songwriting
,
steve rice
Categorized in: Blog, Music Publishing, Songwriting