How Churches Can Utilize Licensing – Exclusive Webinar
February 27, 2019
MediaShout, the leading church presentation software, offers their Plus Members an exclusive monthly training webinar. In December, our very own Susan Fontaine Godwin, CCS Founder and President, got to chat with MediaShout's Aaron West about how churches can ensure they are utilizing licensing properly.

Just for our blog readers, we have been given permission to share this exclusive webinar. This 45-minute video goes in depth on the why behind copyrights and offers practical and affordable solutions for your church.

To watch now click here. To learn more about why over 80,000 churches all over the world use MediaShout for their presentation software needs visit MediaShout.com today.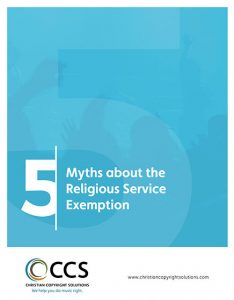 5 Myths about the Religious Service Exemption
Interested in learning more about copyright law and how it affects your church? Enter your information here to download the 5 Myths about the Religious Service Exemption. It adds clarity to some of the top areas of misinformation regarding copyrights.
Download Now!
About Christian Copyright Solutions: CCS's quest is to help churches and Christian ministries "do music right." CCS is an expert on church music copyrights and our primary focus is providing licensing and clear educational resources to churches, as well as representation, administration, and advocacy for copyright owners. Follow us on Twitter, Facebook, YouTube, and Instagram. The information contained herein is for informational purposes only, and is not legal advice or a substitute for legal counsel.
---
Tags:
church copyright compliance
,
church music licensing
Categorized in: Blanket License, church copyrights, copyright compliance, copyright infringement, Copyright Law, Resources