Is the Contemporary Christian Music Industry Really Dead?
June 15, 2015
I serendipitously fell into my vocation in Christian music almost 30 years ago, when Integrity's Hosanna! Music skyrocketed with a disruptive (albeit accidental) worship music tape-of-the month business model.
Just 10 years prior, in 1975, when I encountered Jesus in a radical salvation experience, I left the world of drugs, alcohol, partying and playing gigs in taverns, and anxiously stepped across the threshold of my first church in 10 years. I was embraced by waves of love and revived by the emerging Jesus Movement (CCM was right around the corner) music of 2nd Chapter of Acts, Chuck Girard, Larry Norman, Nancy Honeytree, Phil Keagy and Keith Green.
We sang many of these songwriter's praise songs in church, along with choruses by New Zealand's Scripture in Song worship pioneers Dale and David Garratt.
So when I stumbled upon the headline "Who Killed the CCM Industry," by Tyler Huckabee, I was intrigued. Huckabee writes:
In CCM's heyday, approximately 50 million CCM albums were sold annually. In 2014, that number had plummeted to 17 million. CCM Magazine has long since ceased printing issues, and modern Christian songwriters struggle to penetrate the masses, outside of writing worship songs for church gatherings.

The descent of CCM is a reflection of America's waning interest in Christianity as a whole. The precipitous dropoff in CCM sales has left Christian labels and artists staring into the void alongside their pastors, scratching their heads, wondering where they went wrong. – Tyler Huckabee
Looking back on the wild success of Integrity's Hosanna! Music praise and worship label in the late 1980's, I recall my first trip to Nashville and meetings with Christian music company veterans. There was huge interest in Integrity's subscription-based business model (we produced and shipped a new album every two months to loyal subscribers), and the kinds of album sales per year we were reaching. I repeatedly heard two things: 1) the subscription model DOESN'T work in the music industry, and 2) how are you selling that many units of worship albums? Many companies were focused on the bottom line profitability and how they could replicate it. Several labels began developing their own label's praise and worship projects; believe me, and I'm not here to judge anyone's motives.
Want more content like this? Signup for the CCS Newsletter
Fast forward two decades, and music companies (Christian and general) are struggling to curb piracy and find a viable model that will lift them out of sinking and declining ecosystem fueled by digital disruption. It does seem that Christian musical trends have done a complete 180.
Huckabee continues to say the he believes:
The CCM industry began relying on sure bets, and the surest bet of all was what's broadly known as "worship music" — songs people sing at church. Initially fueled by musicians like Chris Tomlin and Sonic Flood, worship has since become CCM's primary export — a fact worship-focused bands like Hillsong United have leveraged into playing stadiums around the world.

But whatever CCM might have gained in throwing its fortunes in with worship music, it largely lost in its ability to sneak into the Top 40 or the occasional Now That's What I Call Music! compilation. (One big exception is chart-topping emcee Lecrae, and CCM is clinging to him like a life raft.) For the most part, CCM artists have been content to either play it safe and hold onto their dwindling cut of America's attention span, or strike out on their own and look for other outcasts.
I'm not sure I agree with Huckabee's assessment that the CCM industry's pivot to "worship artists" was initially fueled by Chris Tomlin and Sonic Flood, as I believe the shift was, in part, due to a grass roots hunger for more vertical worship songs that originated in the 80's and 90's. However, I think his point is substantiated regarding CCM throwing in its fortune with worship music."
Kevin Max, a member of dcTalk in the 1990's, comments:
"We were reaching out," Max says. "We were trying to communicate to the non-believer as much as we were communicating to the believer. Today, when I listen to Christian radio and see the festivals and see what's happening in the church, I don't see a whole lot of that interactivity. Where I'm at right now, it's almost like the doors have shut on the experimenting with lyrics and images and ideas to get people interactive."
Huckabee's article is well worth a read; it's provocative and challenging in posing questions by creatives like CCM producer Matt Bronleewe:
"There's not much room to fail anymore," he explains. "And failure's such a creative gift. When the ability to fail is taken away, it fuels a lot of fear. It narrows the pool of producers and writers to such a degree that there's a sameness that starts to occur."
And producer Paul Burton, published in MusicAcademy.com, who says:
"We have this discussion on a weekly basis in our studio. Basically there was an explosion of worship music in the mid nineties which was new, fresh and successful, then suddenly labels refused to sign non worship artists. The general short sightedness of the business failed to foresee the extremely narrow creative window that congregational music inhabits, translating into musical and lyrical content that has become very generic and mostly uncreative, mainly to fit the requirements and limitations of congregational worship.

As we have seen, a large proportion of Christians are now very bored with listening to worship albums as they all sound very similar and can only be limited to certain lyrical content.

Now that sales are dropping off, labels, rather than widening the creative net, are narrowing it to hold onto those last few sales.

There is no way back from a business point of view until an artist can capture the imagination of the masses once again and has a label/marketing machine brave enough to propel it."
Then again, should there even be a Christian worship music industry, and what are your thoughts about what you'd like to hear coming from Contemporary Christian Music these days?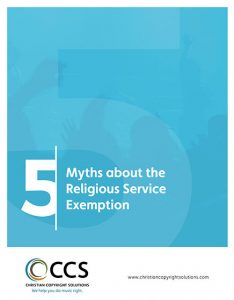 5 Myths about the Religious Service Exemption
Interested in learning more about copyright law and how it affects your church? Enter your information here to download the 5 Myths about the Religious Service Exemption. It adds clarity to some of the top areas of misinformation regarding copyrights.
Download Now!
CCS's Founder and CVO, Susan Fontaine Godwin is an educator and long-time member of the Christian arts community with 30 years of experience in the Christian media industry, church copyright administration and copyright management. Susan is an author and speaker and frequently writes for several Christian magazines and online publications. She serves as an adjunct professor at the University of Mobile.
---
Categorized in: Blog