Pope Francis Hosts Don Moen, Andrea Bocelli and Darlene Zschech at Vatican for Historical "Voices of Prayer"
July 17, 2015
I first met Don Moen at Integrity Music in the 1980's shortly after his return from a whirlwind worship tour in Asia. The Integrity staff heard many stories, at that time, about Don's wild popularity in countries like the Philippines, where he would be greeted by fans lined along the streets to welcome him from the airport. Don was embarrassed by such tales, but he clearly loved his global travels to countries where people were hungry for fresh and inspired worship experiences.
Moen is an iconic voice in Christian music and pioneer in the modern praise and worship movement. He continues to travel around the globe and has led worship on every continent but Antarctica. Moen recently joined Andrea Bocelli and Darlene Zschech in an ecumenical event to pray for persecuted Christians all over the world.
On July 3, Pope Francis hosted the "Voices in Prayer," a historic gathering in Rome, Italy at St. Peter's Square in the Vatican, where Moen, Zschech and Bocelli were featured during the event.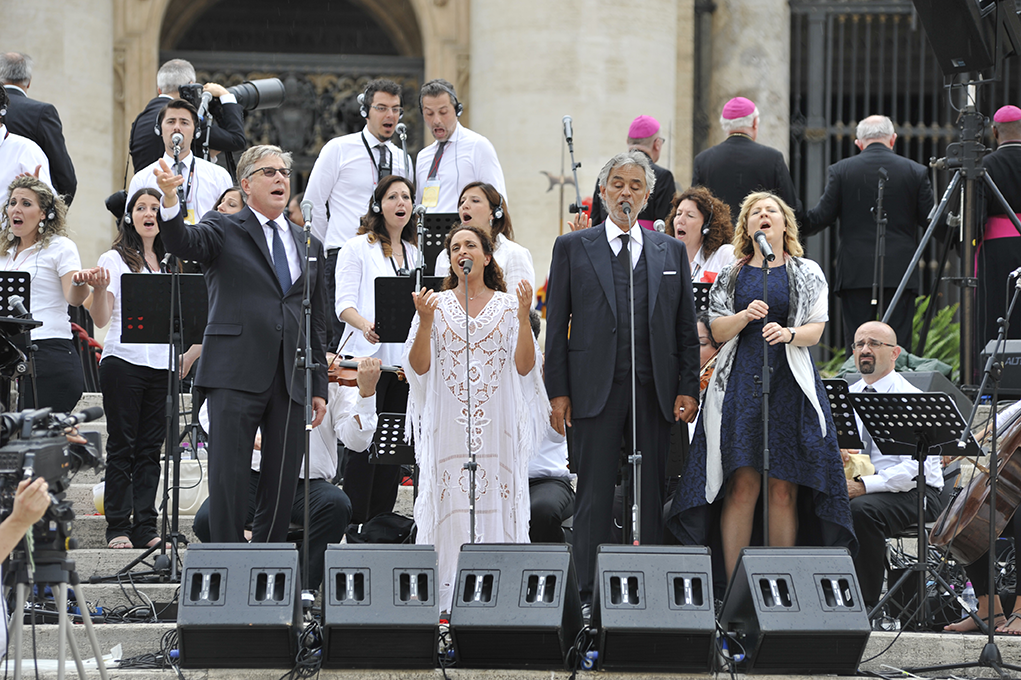 Organized by the "Renewal in the Holy Spirit," a charismatic group within the Catholic church, it was the first time an ecumenical event was held in St. Peter's Square.
"It was an honor to join my friend Darlene Zschech, along with Andrea Bocelli and Pope Francis as we came together in St. Peter's Square for the 'Voices in Prayer' event," states Moen. "This ecumenical event brought Protestants, Catholics, and Jews together as we prayed for our brothers and sisters in Christ who are being martyred and persecuted all over the world today. I have seen firsthand how coming together in worship and prayer promotes unity. Join me as we pray for those who are being jailed, beaten, and killed for professing their belief in Jesus Christ."
The music and ministry of Don Moen has a global audience impacting millions of people. Along with the United States, his travels for concerts and seminars have taken him to Ghana, South Africa, Singapore, the Philippines, South Korea, Brazil, Canada, Australia, Great Britain, Hong Kong, Malaysia, Indonesia, Japan, Guatemala, Honduras and many more.
CCS's Founder and CVO, Susan Fontaine Godwin is an educator and long-time member of the Christian arts community with 30 years of experience in the Christian media industry, church copyright administration and copyright management. Susan is an author and speaker and frequently writes for several Christian magazines and online publications. She serves as an adjunct professor at the University of Mobile.
About Christian Copyright Solutions: CCS's quest is to help churches and ministries "do music right."  CCS is an expert on church music copyrights and our primary focus is providing licensing and clear educational resources to churches, as well as representation, administration and advocacy for copyright owners. Follow us on Twitter, Facebook. The information contained herein is for informational purposes only, and is not legal advice or a substitute for legal counsel.
---
Tags:
Darlene Zschech
,
Don Moen
,
Pope Francis
,
Vatican