True or False: It's OK to Use 10 Seconds of Song without Permission?
April 21, 2015
April is National Copyright Myth Solving Month. Ok, it's really not, but since April starts with a Fool's Day, why not? There are a myriad of myths surrounding copyrighted material and its use in the church. We will highlight and address some of the most common myths we hear, explain them and answer the question TRUE or FALSE.
Here's a very frequent Myth we hear:
If I only use 10 seconds of a song or a video clip, I don't need to get permission. TRUE or FALSE?
FALSE. In most cases, the length of a recording, or any copyrighted material, does not alter the requirement to obtain permission from the copyright owner. In some cases, it may impact the cost or rate of the license, but it does not exempt you from first asking and receiving copyright clearance from the owner before using it.
Want more content like this? Signup for the CCS Newsletter
Some may argue that the U.S. Copyright Law's Fair Use doctrine allows for using a small portion of a copyrighted work without permission, but this doctrine is quite complicated in its application and we recommend that you either obtain legal advice from an attorney about your particular situation or read this article on Fair Use by Brock Shinen, Esq. before assuming fair use applies to your use.
There are some pretty interesting court rulings that have found in favor of the copyright owner for use of as little as 1% of copied material, as well as 29 seconds of a 40-minute copyrighted musical work. (See pg. 90 of "Essential Guide to Copyright Law for Churches" by Richard R. Hammar, J.D., LL.M., CPA) Also, remember that Fair Use is a defense, and therein implies that you may have to defend your position on Fair Use in a court of law.
Regarding the intent of the U.S. Constitution, Shinen states:
Congress created the Fair Use doctrine, however, to allow people and institutions to exercise the rights of a copyright owner for the purposes of criticism, comment, news reporting, teaching, scholarship or research. As you might guess, the exception was probably carved out to enable news organizations and education institutions to use copyrighted material for the benefit of the public. The Fair Use doctrine, however, has grown well beyond its original purpose and now plays a significant role in other venues and industries.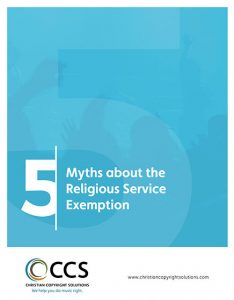 5 Myths about the Religious Service Exemption
Interested in learning more about copyright law and how it affects your church? Enter your information here to download the 5 Myths about the Religious Service Exemption. It adds clarity to some of the top areas of misinformation regarding copyrights.
Download Now!
About Christian Copyright Solutions: CCS's quest is to help churches and Christian ministries "do music right."  CCS is an expert on church music copyrights and our primary focus is providing licensing and clear educational resources to churches, as well as representation, administration and advocacy for copyright owners. Follow us on Twitter, Facebook and Pinterest. The information contained herein is for informational purposes only, and is not legal advice or a substitute for legal counsel.
---
Tags:
10 second rule
,
copyright myths
,
fair use
Categorized in: Blog