Paul Baloche's "Your Mercy" New Album Reflects God's Unwavering Grace
October 6, 2016
Guest writers/artists include The Brilliance, All Sons & Daughters, Michael Neale, Matt Redman and Andi Rozier
BY SUSAN FONTAINE GODWIN: I first encountered Paul Baloche's gift of songwriting in the early 90's when I was serving as head of Integrity's Music Administration.  One of the best perks of my job was the joy of listening to new songs pressed for the rough cut of upcoming recordings. Baloche was composing songs for Integrity Music's Scripture Memory series, a bi-monthly recording production that offered a demanding and prolific platform for Integrity writers to hone their craft, and quickly became one of our go-to songwriters. It was not unusual for me to listen and worship behind closed office doors, often in tears. His songs always led me into God's throne room.
Baloche began to write for specific Hosanna! Music projects, and it was then that he penned "Open the Eyes of My Heart" for the Integrity's Songwriters acoustic album, Because We Believe, 20 years ago. After singing it in an array of church settings, it was clear it would become a classic worship song, touching a universal chord across a broad spectrum of denominations and countries.
Worship leader and Dove award-winning songwriter – Baloche has been serving the local church on a global scale, crafting songs such as "A New Hallelujah," "Open The Eyes Of My Heart,""Your Name" and "Above All" that have been recorded in 10 languages and sung by believers around the world. With more than 30 years of ministry, Baloche continues to write and produce worship projects for the Church out of his deep spiritual connection with God and church community. He has also created a variety of training resources for worship teams while mentoring the next generation of worship leaders. Now this "worship pastor of worship pastors" launches his next season of ministry from a home base in New York City with his new album, Your Mercy, filled with songs that reflect his adopted community and God's unwavering grace.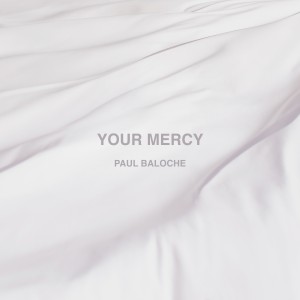 I'm particularly excited about his newest project to be released October 7. Baloche has had a unique gift of taking the prayers of the people and putting them into song, and Your Mercy reflects this heart cry.
"Songwriting is a big part of my spiritual life," Baloche shares. "It helps me go deeper with God. It helps me fix my mind on Jesus, to set my mind on things above. It keeps my own heart fresh and alive, for myself, my family, and the Church."
"When I'm writing songs," he says, "I think, 'Will this help the Church worship God? Will this help people connect with Him?' I want to make music that they can believe in."
When asked how the Church has given back and supported his ministry with proper music licensing, Baloche shared:
"All of my kids grew up understanding that music is not free. It's important to acknowledge and support the musicians, writers, vocalists, engineers, and producers of the music that we love. CCS's PERFORMmusic and WORSHIPcast make it easy to help support the music we believe in and keep us all in compliance with the copyright laws. It always feels good to do the right thing. Let's do it."
Baloche produced the album with longtime collaborator Michael Rossback and wrote the 12 songs with co-writers All Sons & Daughters, Michael Neale, Corey Voss, Andi Rozier (Vertical Church Band), Matt Redman, Aaron Shust, Meredith Andrews, Aaron Gillespie, and Jason Ingram.  The project, which has already received a 5-star review from Worship Leader magazine, releases globally in stores and on digital platforms through Integrity Music October 7.
Your Mercy, like all of his albums, was crafted with the local church and worship leader in mind. The songs were recorded live in a Brooklyn studio over several nights and are congregational in nature with stripped down instrumentation. Baloche describes the album as "honest worship sessions with very few overdubs, a back-to-basics simplicity of worship… singing together new prayers and songs as a community to glorify God."
RELATED: Paul Baloche Offers Free Digital Songbook Download of Christmas Worship Vol 1 and 2
"When I'm writing worship songs," Baloche notes, "I realize that I'm putting words into the mouths of God's people. I'm giving them a vocabulary to sing back to God. And when they sing those words hopefully it will act as a catalyst in their hearts, so something will happen in them. Because when we sing something, it goes down deep into our soul."
Twenty years of music ministry. Twenty-three years of marriage (and three children). Eleven worship-recordings including Glorious, a new French language CD, and an album recorded in South Korea. Countless beloved songs. All are remarkable signposts on a remarkable journey.
As he reflects on the road so far, he remains committed as ever to what matters most. "I'm just trying to press into God, to keep my own heart right, and to encourage and help the Church worship."
CCS's Founder and CVO, Susan Fontaine Godwin is an educator and long-time member of the Christian arts community with 30 years of experience in the Christian media industry, church copyright administration, and copyright management. Susan is an author and speaker and frequently writes for several Christian magazines and online publications. She serves as an adjunct professor at the University of Mobile.
About Christian Copyright Solutions: CCS's quest is to help churches and Christian ministries "do music right." CCS is an expert on church music copyrights and our primary focus is providing licensing and clear educational resources to churches, as well as representation, administration, and advocacy for copyright owners. Follow us on Twitter, Facebook, and YouTube. The information contained herein is for informational purposes only and is not legal advice or a substitute for legal counsel.
---
Categorized in: Paul Baloche